By Savanna Junek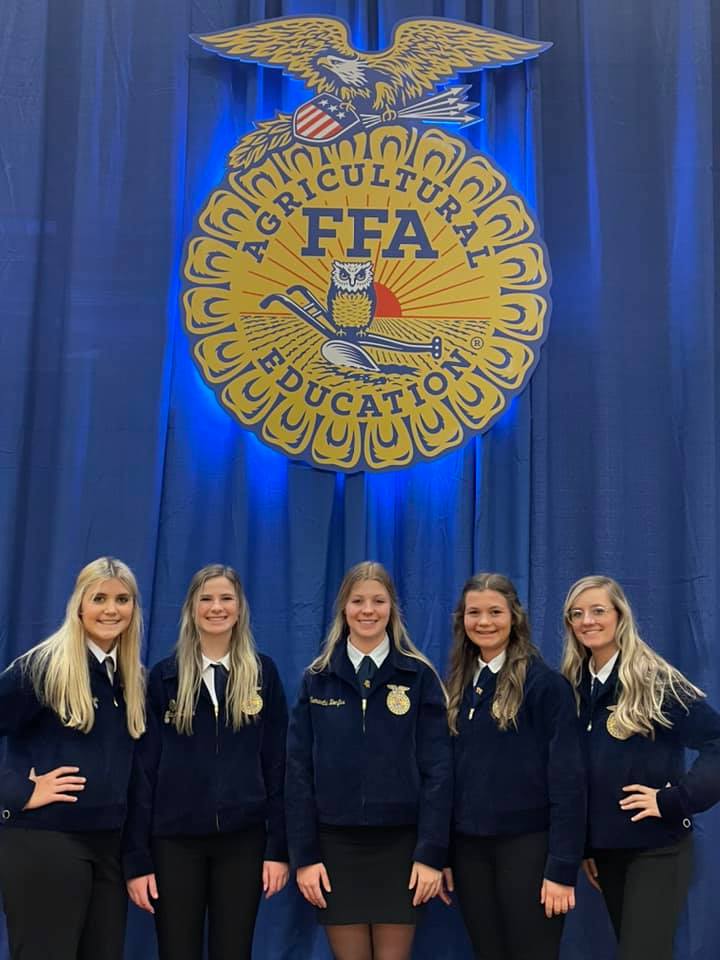 For months FFA members from all over the United States have been preparing for their much-anticipated trip to the National FFA Convention in Indianapolis, Indiana. Silver Lake FFA Advisor Mrs. Curlo said, "National convention is a trip of a lifetime! Students get to see what a huge organization they are a part of with over 55,000 blue jackets in one arena. They get an understanding of what FFA really stands for, from nationally renowned speakers to leadership workshops that give students aspirations and inspiration to become better individuals and a want for bigger opportunities such as starting their own business or being a hard-working employee in a career fit for them." Five out of the six Silver Lake FFA officers decided to go along with Mrs. Curlo. On Wednesday, October 24th at midnight, juniors Samantha Bonifas and Kassi Jones,  sophomores Maddie Karr, Ashley Bonifas, and Savanna Junek, and Mrs. Curlo hopped on a charter bus with other schools and started their trip to Indianapolis. 
After sixteen hours on the bus, the girls made it to Indiana. On Thursday morning, they woke up bright and early and dressed in their blue and gold. They were on the bus by 6:15 in their FFA Jackets representing Silver Lake FFA. The first thing on their agenda was the opening session at the Lucas Oil Stadium. Between hearing from the National FFA officers and listening to amazing speakers, it was one of the best experiences of a lifetime. One of their favorite speakers was Courtenay DeHoff. She was the keynote speaker and everyone loved her. President Samantha Bonifas said, "Courtenay Dehoff was very impactful on me because she showed me how powerful women can be in agriculture and that agriculture doesn't have to be what it's stereotyped to be. I was able to relate to her because I have thought about Ag Communications as a career and she inspired me to explore that career. The opportunity to learn about yourself more is what I love about FFA. FFA is such a social organization but at the same time, it's such a self-developing organization." After the opening session, the FFA Officers headed to the convention center to attend a workshop about mental health. The hallways inside of the convention center were flooded with FFA jackets. Once the workshop was over shopping and exploring began. They went to the FFA mall and purchased some clothes and they also went through the career and college fair. Then, they left the convention center and explored downtown Indianapolis. After a long and eventful day, they had an FFA officer supper at Weber Grill to talk about their day and plan for the days to come.
On Friday, yet again the girls woke up bright and early to hop on the bus. This time though they went to Kentucky. The first stop in Kentucky was at the Chestnut Hall Horse Retirement Farm. The horse sanctuary is home to multiple retired racehorses. After the sanctuary tour, the next tour was at Churchill Downs, famous for hosting the Kentucky Derby. The tour was amazing and the officers looked on point trying on the pricey derby hats in the gift shop. The last tour of the day was at Louisville Slugger where they learned about the process of making a bat and toured the factory. After a day full of tours the bus headed back to Indianapolis. Once the girls got into their hotel rooms they got all prettied up for the FFA dance later on that night. The FFA officers had a great time dancing the night away and meeting new people.
Unfortunately, the last day had come and it was time to leave. Saturday was bitter-sweet because the girls did not want the National FFA Convention to be over yet. They packed up their suitcases and headed home.
Overall, having the opportunity to attend the National FFA Convention is rare. The convention is a once-in-a-lifetime experience. "They make connections with students all across the nation giving them a bigger platform to connect their futures. It is so rewarding for me to be able to give my students this opportunity and see the astonishment on their faces after realizing what a huge organization they are apart and to see them be inspired," said Mrs. Curlo. It is so hard to believe that people from all over the United States hopped on busses, trains, vans, or planes to come to one, single location for FFA. All of these people came together to celebrate and learn about agriculture. Even though they were all different ages and from different states, everyone had one thing in common, their passion for FFA.