By Milla Butler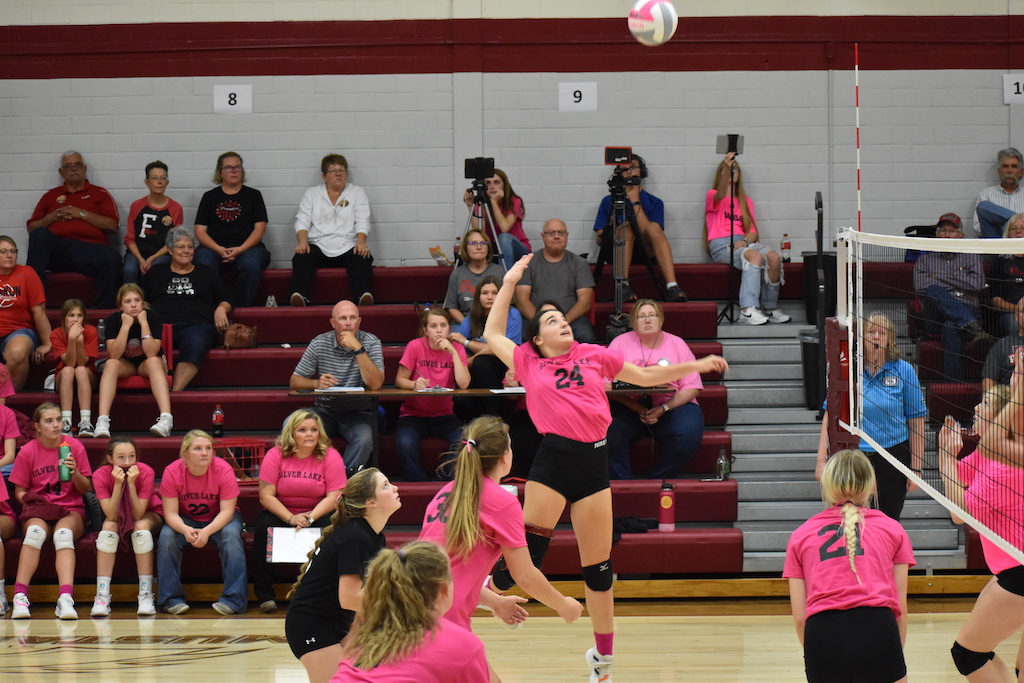 The Silver Lake Mustangs hosted a triangular with the Deshler Dragons and the Franklin Flyers on October 11th for their annual pink night. Sweeping both teams, the girls came out on top in the tri, dedicating their skill to all the strong individuals battling breast cancer. Playing an intense game against the Dragons, the score was close in all three sets. The Dragons won the first set and the score ended up a 25-20 point game. After losing the first set, the Mustangs were determined to win the next two, and the game ended up being in the Mustangs' favor. The next two sets' scores were 28-26 and 25-23. The leading attackers against the Dragons were seniors Georgi tenBensel and Lexi Wengler, with 10 and 8 kills, respectively. Killing it in the back row were senior Brooklyn Meyer with 22 digs and freshman Sophie Schmidt with 20.
The Franklin game only went to two sets, the Mustangs triumphantly taking the win in both sets. With the first set ending with a score of 16-25, the Mustangs came out just as strong as they did in the first half of the game, and once again the score ended up 16-25. Leading the team in kills were tenBensel and Meyer- both with 8 kills- and sophomore Katy Soucek with 5. Also contributing in ace serves, tenBensel had 6. Excelling in defense were Meyer, tenBensel, and Schmidt. tenBensel had 8 digs, and Schmidt and Meyer both had 6.
Each player provided a baked good for the annual pink night bake sale, along with baskets for the silent auction. There were also pledges for each statistical category, all the money from these fundraisers going to the Morrison Cancer Center. Altogether, the community raised over $3,200. Come support the Mustangs on Saturday, October 15th as they compete in the Twin Valley Conference tournament.