By Brooklyn Himmelberg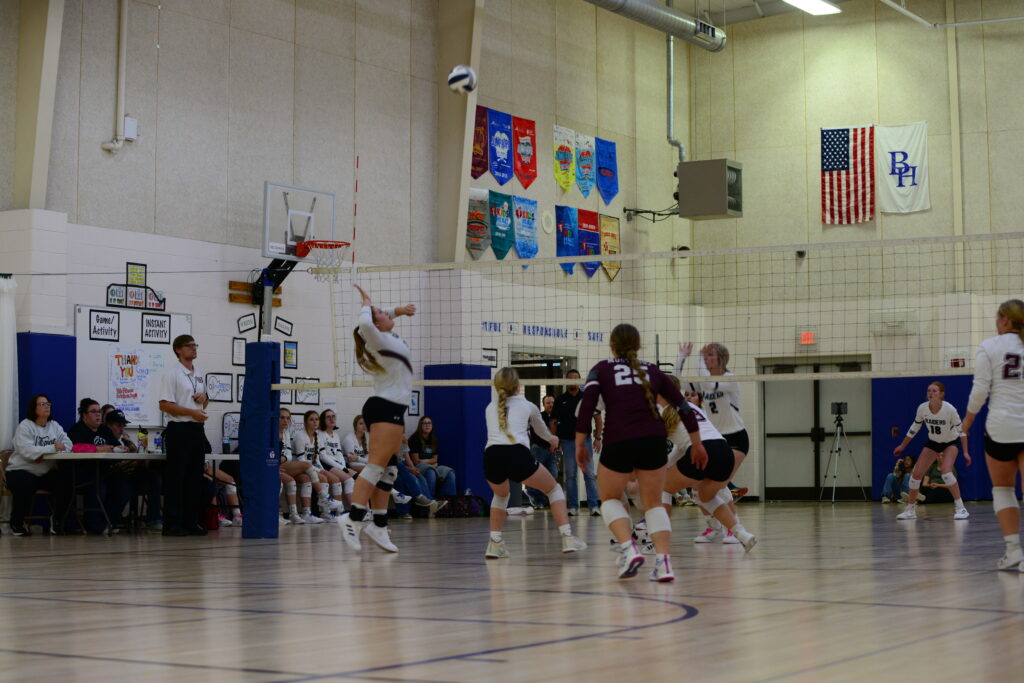 On Saturday, October 14, the Lady Mustangs headed to Blue Hill for the TVC Volleyball Tournament. They played their first game against Kenesaw, and they knew it was going to be a tough one after previously losing in a 5-set match against the Blue Devils. During the game, juniors Katy Soucek and Emma Schmidt led their team offensively, with 6 and 5 kills, respectively. Juniors Macy Parr and McKenna Pankoke each contributed with 4 kills. The team fought hard but ended up losing to the Blue Devils in 3 sets. They won the first set 25-23, but lost the 2nd and 3rd sets 10-25 and 14-25.
The Mustangs had a long wait before they played Lawerence Nelson. It was another tough game that they were gonna have to fight for. During their second game Soucek and sophomore MaKenna Karr led the teams in kills with 6 and 4, respectively. Sophomore Sophie Schmidt ended the day with 31 digs. The Mustangs lost to the Raiders in 2 close sets. The 1st set was 20-25 and the 2nd set was 23-25. They ended up earning 6th place. Coach Shelby Rupprecht said, "Obviously TVC didn't go the way we wanted it to, but there were still a lot of really good things. We played with the most energy we had all year during our first set in the Kenesaw game. Our Lawrence Nelson game was the best we played against them, which is encouraging because I feel that is more a mental game against them. I think we did a better job of blocking, which takes a little pressure off our back row." The Mustangs will continue their season with their last regular season match-ups in a home tournament facing Axtell first and then the winner between Exeter-Milligan-Friend and Deshler.