By Savanna Junek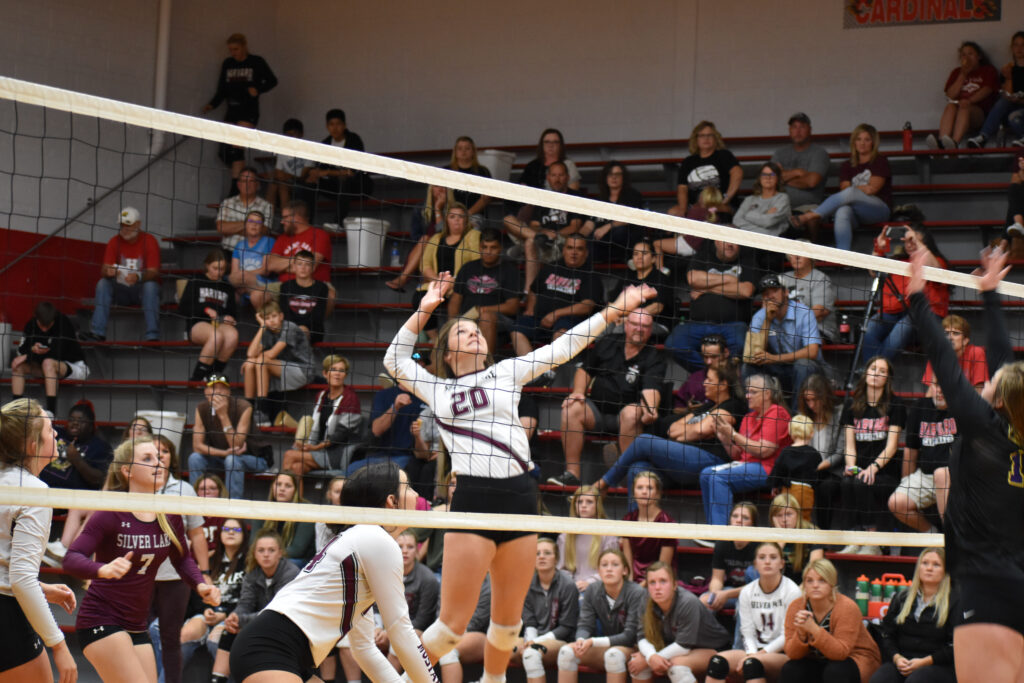 The Lady Mustang's only games of the week were at a Triangular at Harvard. At 4 o'clock on September 28th, the girls hopped on the bus in high spirits, ready to kick butt at Harvard. After being asked how the team regrouped and came together after facing tough teams on Saturday, senior captain Amanda Ehrman answered, "We just need to play our game and not play down to their level. As captain I used my experience to prepare the team to stay in the right mindset and play the best game we can play." After watching the first game with Harvard against Wilcox Hildreth, the Lady Mustangs were anxious and ready for their game to start.
The girls were all set to go up against Elba first. Ehrman had 11 digs. Junior middle blocker Brooklyn Meyer earned three kills. The Mustang varsity starters pulled ahead and stole a huge lead on the Bluejays and this led to the opportunity of the other players to get in. Freshman Katy Soucek subbed into the game, ready to be aggressive and slammed down two kills. The Lady Mustangs won the first set 25-12 and the second 25-11. The Mustangs earned a total of 27 assists, 44 digs, and 28 kills. Once the Mustangs were ahead of the Bluejays, the Mustangs did a great job at working together and having fun to stay ahead.
The Mustang's next opponent was Harvard. Senior Libero Katelyn Karr let nothing hit the floor and picked up eight digs. Junior Georgi tenBensel achieved 11 kills. Yet again, the Lady Mustangs picked up a big lead on the Cardinals which led to the other players to get in again and show the skills they have. Freshman Emma Schmidt worked hard to earn five digs. Setter Morgan Dinkler was a team player with four assists. The Mustangs won the first and second set 25-8 and 25-11. The Lady Mustangs had a total of 11 aces and 20 serve receives. The ladies had a busy night beating the birds.