By Savanna Junek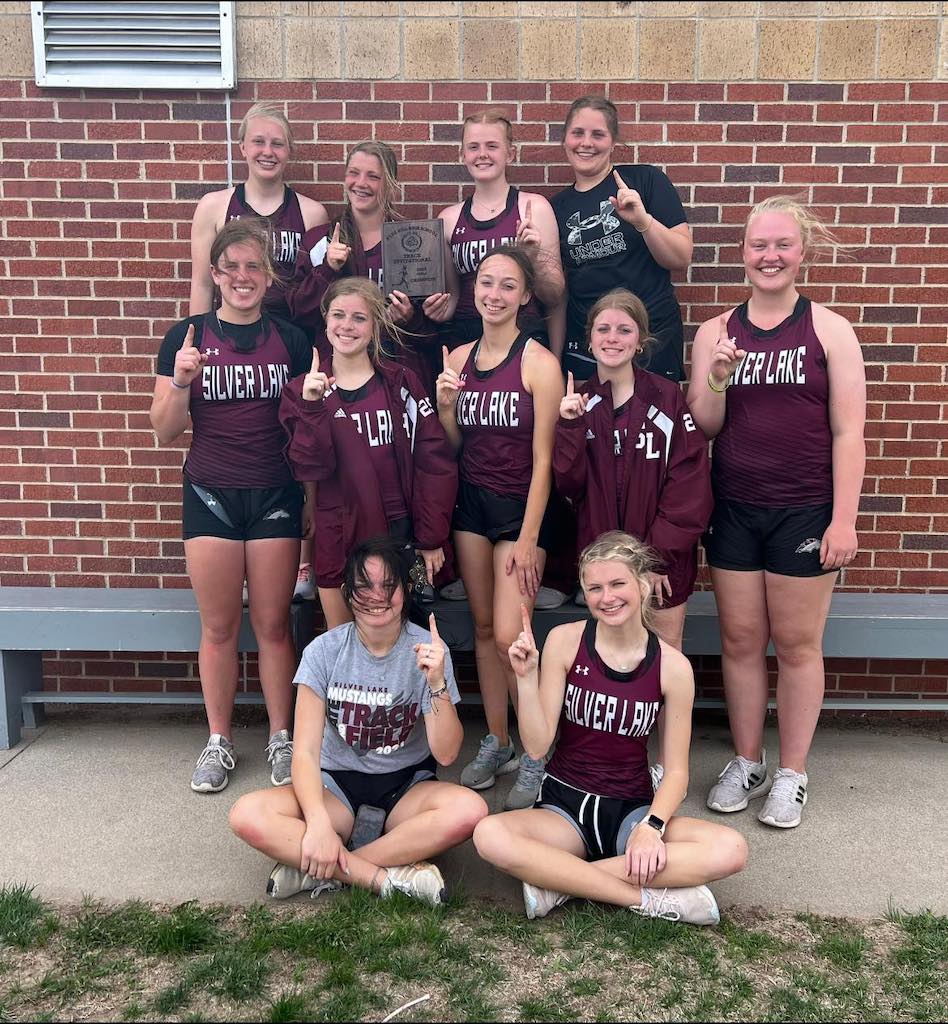 The Silver Lake track team traveled to Blue Hill to compete on April 18th. Although it was a windy day, the Mustangs pushed through and brought home multiple medals.
In field events, sophomore Katelyn Strampher earned first place in both shot put and discus with throws of 30-11 and 108-03, respectively. Sophomore Katy Soucek followed closely behind, placing second in both shot put and discus with throws of 30-07 and 99-11. Sophomore Mckenna Pankoke placed fifth in discus with a heave of 89-8.5. Freshman Sophie Schmidt placed second in long jump and freshman Makenna Karr placed fourth, with distances of 14-09 and 14-05. The girls were highly successful in running events, too. In 300-meter hurdles, Georgi tenBensel placed first and Makenna Karr placed second. Their times were 52.3 and 54.9, respectively.  tenBensel also earned sixth place in the 100-meter hurdles. MaKenna Karr placed second in the 100-meter dash and Schmidt placed third. Schmidt also earned second place in the 200-meter dash; her time was 29.26. Sophomore Milla Butler earned first in the 1600-meter run with a time of 7:07 and fourth in the 400-meter dash, running a 1:15. When asked how she pushed through to place first in the 1600-meter Butler said, " I really focused on keeping up with the girl who was seeded first. Keeping up with her helped me use her as a wind block which saved my energy until the last lap. Once I got around her, I ignored the wind and pushed through to win." Junior Morgan Dinkler placed second in the 3200-meter run, finishing with a 15:18 in the wind. In the 800-meter run, Sophie Butler placed fourth, and sophomore Macy Parr placed sixth, with their times 3:15 and 3:20, respectively. Strampher, freshman Karah Bartels, Pankoke, and Soucek were on the 400-meter throwers relay team and they placed third. The 3200-meter relay team consisting of sophomore Sophie Butler, Milla Butler, sophomore Macy Parr, and Dinkler placed first, crossing the finish line with their time of 12:33. In total, the Lady Mustangs brought home 20 medals and they pushed themselves to be the Girls' Team Champions. 
The boys also had a highly successful day. Junior Adrian Gomez placed first in shot put with a throw of 44-0.25 and second in discus with 107-0. Sophomore Cody Plambeck earned fourth in discus with 99-02 and fifth in shot put with a throw of 32-0.5. Sophomore Clay Plambeck placed sixth in shot put, throwing 30-0.25. Junior Keaton Karr earned fourth place in long jump with a jump of 17-0. In triple jump, freshman Jaxon tenBensel placed second with 36-11. tenBensel also placed third in the 300-meter hurdles and fourth in the 400-meter dash, with times of 48.8 and 58.05, respectively. Freshman Hayden Karr achieved first place in the 1600-meter run with his time of 5:44 and second place in both the 400-meter dash with 57.04 and 800-meter run with 2:20. Sophomores Clay, Cody, Jeremy Sharp, and Casey Conway placed third in the 400-meter throwers relay. The 400-meter relay team consisting of tenBensel, junior Easton Huertz, Gomez, and Karr earned 4th place with their time of 51.8. Overall the Mustangs had an outstanding track meet. In total, they earned 34 medals.