By Lana Swanson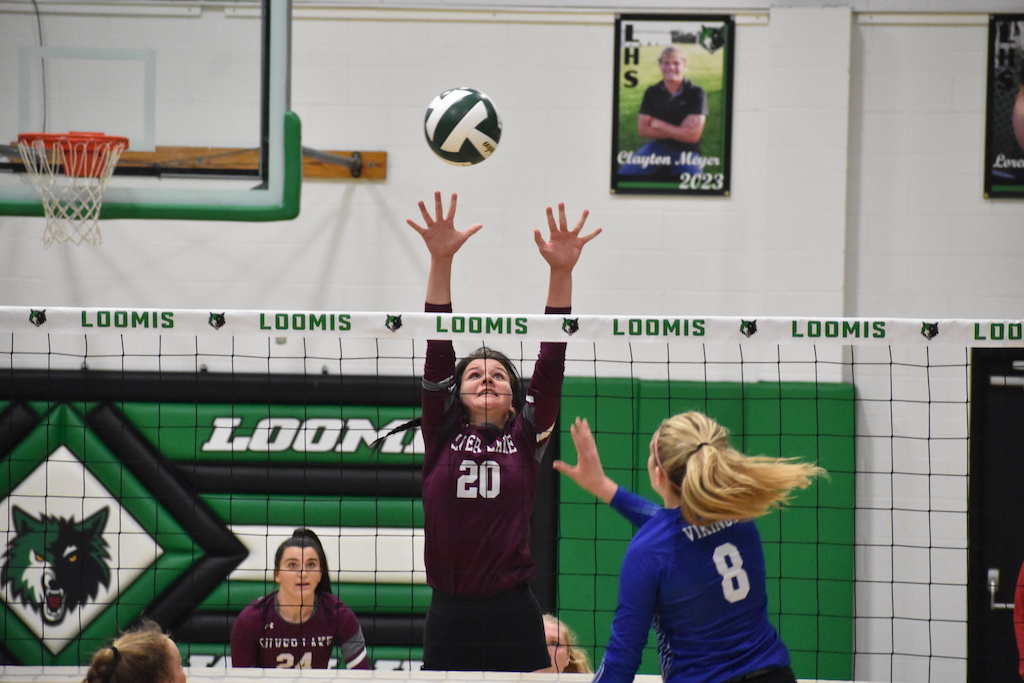 The Lady Mustangs traveled to Loomis on Saturday, September 10. They played three games at the Loomis tournament and finished with a third-place medal. Throughout each game, Silver Lake worked to improve their mistakes and do their best. 
To start off the day, the Mustangs played Bertrand. They managed to beat the Vikings in two sets. The final score of the first was 25-20. The second set was 25-19. Junior Sydney Bartels had 3 aces throughout this game. Bartels and junior Morgan Dinkler, each with 7 assists, were able to get a lot of Mustangs involved in the offense, finding seniors Georgi tenBensel, Brooklyn Meyer, Lexi Wengler, and Josi Sharp. tenBensel earned 7 kills and Meyer, Wengler, and Sharp earned 5 a piece.
After this game, the Lady Mustangs took on Wallace. They put up a fight but lost to the Wildcats in three sets. Wallace won the first set 20-25. Silver Lake came back and won the second set 25-20. tenBensel managed to get 13 kills during this match, earning her the top spot on Silver Lake's leaderboard for career kills, previously held by Sydney Parr at 958. tenBensel currently sits 5th in D-1 for kills this season with 117. The Mustangs worked in the back row to stop the Wildcat offense, picking up 73 digs, with tenBensel picking up a season-high 22, and sophomore Emma Schmidt grabbing 17 herself. The score of the final set was 25-17. Dinkler stated, "After a loss, it is always hard to play again, but we all kept our heads up and stayed positive, so we could come back and win the next game."
They came out stronger than before and beat Hampton in two sets (25-23, 25-20). As a team, the Mustangs had a total of 6 aces during this game, with Wengler, who currently sits second in D-1 for aces, Meyer, and sophomore Katy Soucek earning 2 each. tenBensel added 11 more kills for the day, and Soucek earned 5 kills with a .400 hitting percentage. Meyer and Wengler picked up 11 and 8 digs, respectively. They finished the tournament in third place, and they continue their season with a record of 7-4.