By Samantha Bonifas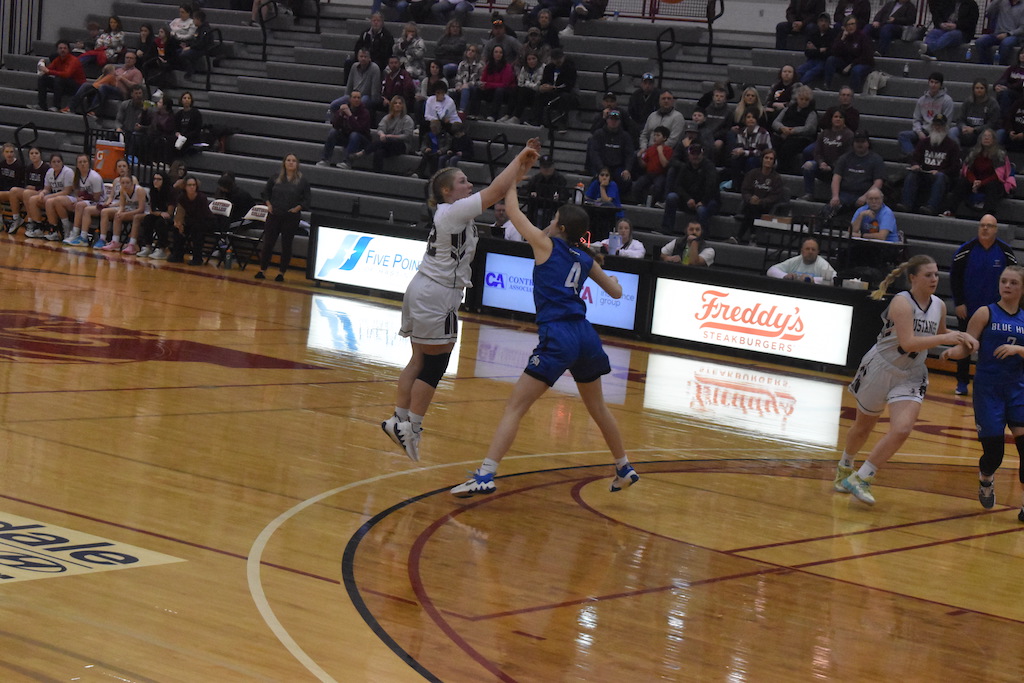 The third-seeded Silver Lake Lady Mustangs entered the Twin Valley Conference Tournament ready to battle. First, the Mustangs faced off against the Lawerence Nelson Raiders in the quarter-final round. This was the second matchup between the teams in just five days. The first quarter proved that the remainder of the night would be a fight, as the Mustangs led 7-5. Freshman Sophie Schmidt utilized transition points to assist Silver Lake in their 19-13 lead at halftime. "At half-time, everyone took a deep breath and just relaxed. We changed our mindsets and went back out," said sophomore Emma Schmidt. Urged on by the halftime talk, Silver Lake finished the second half of the game in a much more aggressive style. "We put up a fight. Whenever somebody was down, we made sure to pick their confidence right back up. Once we got our momentum going, there was no going back," said Emma Schmidt. As the scoreboard buzzed for the completion of the game, Silver Lake held a 37-26 victory. Sophie Schmidt finished the game with 13 points. Senior Georgi tenBensel and Emma Schmidt both chipped in 7 points. 
The Lady Mustangs then advanced to the semifinals to face off against the Deshler Dragons. The Mustangs previously lost by four to the Dragons at the beginning of the season. Looking for revenge, the Lady Mustangs climbed to a 13-12 lead to start the first quarter. In tug-of-war fashion, the lead went back and forth between the teams in the second half. The Mustangs headed to the locker room trailing 28-25. Despite the pursuit from Silver Lake, Deshler jumped to a 42-34 lead by the end of the third quarter. The Mustangs attempted to shave the Dragon lead, but ultimately lost 55-44. Emma Schmidt led the team with 15 points, 9 of which came from the 3-point line. Freshman MaKenna Karr led the team in rebounds with 6 total rebounds. 
To finish the TVC tournament, Silver Lake faced off against Blue Hill in the consolation game at Hastings College. Battling for 3rd place, the Mustangs surged a 26-point first half. The Bobcats battled back in the second half, outscoring Silver Lake in both the third and fourth quarters. The Mustangs had no answer to the 19 points from Blue Hill's Reece Mlady. Silver Lake fell to Blue Hill 52-42. Coach Kate Sinsel commented that the tough losses do not change the course of path for her team for the rest of the season. "Although it's hard to lose in conference when we had goals for the conference tournament, those losses don't change anything about our goals for the postseason. We are going to see Blue Hill again so we are going to use our TVC game to improve for subdistricts." The Silver Lake Lady Mustangs finished the Twin Valley Conference Tournament as the fourth-place team.