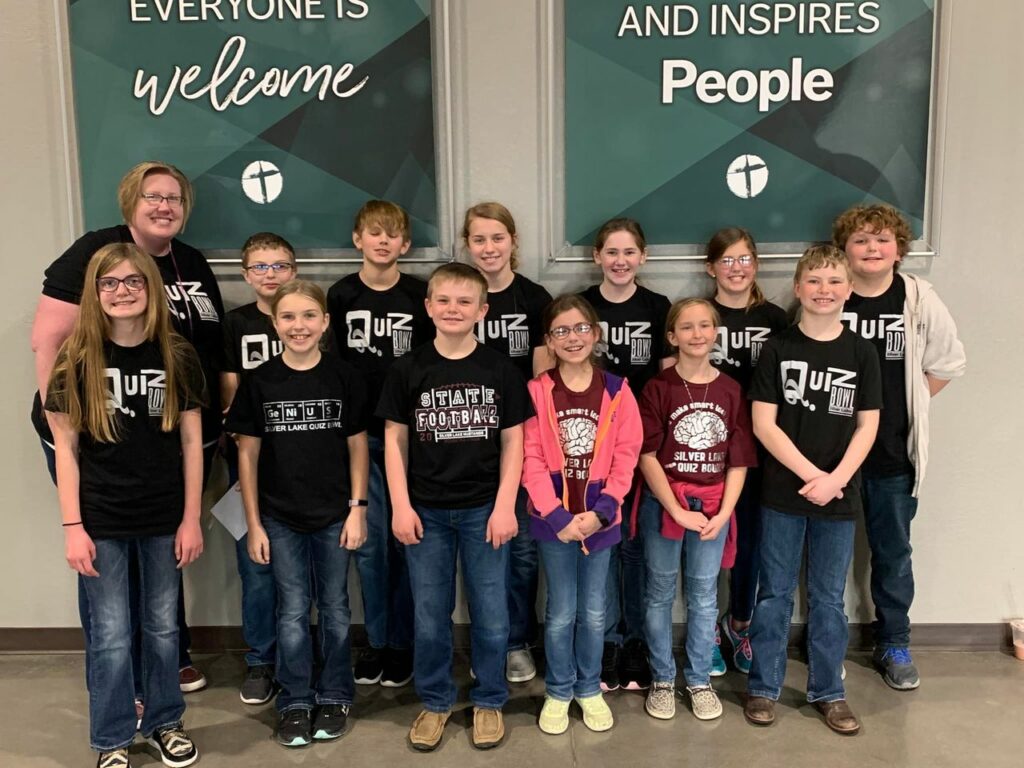 This week,  the Silver Lake elementary, middle school, and high school Quiz Bowl teams went to ESU 9 in Hastings to compete with other schools that are in the ESU 9 district. 
On Tuesday, February 1, Silver Lake elementary sent two teams to participate. There were 41 teams total in the competition. The Silver Lake A team, with members 6th graders captain Justin Sharp, Jordan Bonifas, Libby Soucek, Molly Hemberger, and Kaylee Karr, and 5th grader Graham Karr, started off the day defeating Alcott White in the first round and then defeating Superior 2 in the second round. Unfortunately, the team fell to Adams Central Blue, who ended up earning 2nd place in the tournament, in the third round. After moving to the consolation bracket, they defeated Adams Central Red and ended the day falling to Doniphan-Trumbull Red. The Silver Lake B team, which consisted of 6th grader captain Brooklyn Himmelberg, 5th grader Blaise Kushen, and 4th graders Emily Hemberger, Colston Karr, Olivia Whitten, and Leah Bartels, lost to Doniphan-Trumbull Black and Aurora 6th in the first two rounds. Graham Karr said, "Quiz bowl is the best extra subject in school." When discussing the ESU 9 meet, he said, "It was an extremely fun time." 
The next day, the high school quiz bowl team took their shot at the competition, competing against 32 teams. Team members include freshman Clay Plambeck; sophomores Keaton Karr, Madison Karr, Savanna Junek, and Lana Swanson; juniors Josi Sharp and Samantha Bonifas; and senior Brock Karr. The team started off the day with a tough competition against Hastings High 1, with the Mustangs falling short in an overtime battle to the team that took home the championship title. Following that tight match, Silver Lake easily defeated Sutton Black to advance to take on Sandy Creek Red. The match was intense as the teams went into 13 rounds of overtime, where Silver Lake was able to come out on top with Sharp coming up with the correct answer in the overtime. To end the day, the team fell to Adams Central.
The middle school quiz bowl team ended the week at ESU 9 on Thursday. There were 29 teams that competed for the day. Silver Lake team members include 8th graders Beau Bonifas, Hayden Karr, Lanham Skrdlant, Trevor Kral, Landon Duester, and MaKenna Karr, and seventh graders Logan Duester and Xander Journey. The team started the day with a bye and then defeated Sandy Creek White in the second round. Unfortunately, they lost to Hastings Middle School 7th Black and St. Cecilia in the following two rounds. Coach Mrs. Heuertz was impressed with Skrdlant and Hayden Karr who stepped up for the day answering questions to lead the team.