By Sophie Butler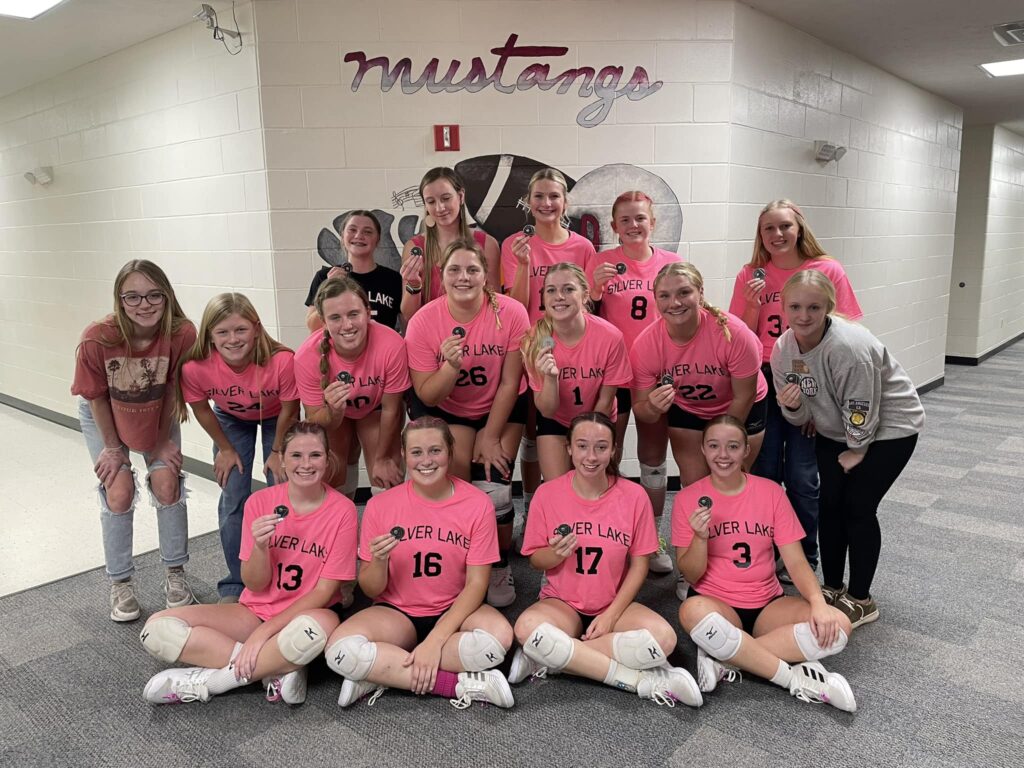 Tuesday, October 17 was a special night for the Mustang community. The volleyball team hosted its annual Pink Night fundraiser, which supports the Morrison Cancer Center in Hastings. To raise money, the volleyball team paired up to bring silent auction baskets. Also, groups of individuals pledged to donate money based on a statistical category. Lastly, community members purchased Pink Night shirts. The Skupa family donated the pink shirts for the volleyball team to wear.
Along with Pink Night, the Mustangs also celebrated their four seniors for their last home game as Mustangs. For the first game of the night, Silver Lake took on the 20-5 Axtell Wildcats. The Mustangs overcame the Wildcats in two sets, with set scores of 26-24 and 25-21. Leading the Mustangs offensively, junior Katy Soucek had 7 kills. Senior Sydney Bartels followed closely behind with 6, and junior Macy Parr and senior Morgan Dinkler each contributed 5. Defensively, sophomore Sophie Schmidt earned 15 digs and senior Madison Karr picked up 13. Senior Lana Swanson and Dinkler ran the offense with 9 and 11 assists, respectively. The victory placed the team in the championship game to face the winner of Exeter-Milligan-Friend and Deshler.
After coming out with a win against Axtell, the Mustangs were prepared to take on the Deshler Dragons during their second game of the Pink Night Invite. Leading the team in digs, sophomore libero Sophie Schmidt acquired 10. Trailing just behind her was Karr who acquired 10 digs, helping out the Mustangs on defense. Contributing the most assists of the game was Dinkler with 7. With a good fight, the Mustangs lost the first set with a score of 25-15. Going into the second set with a strong mindset, Parr led the team in attacking, putting away 4 kills against the Dragons. "After losing to Deshler once already, we knew our mindset had to be better. We just had to go in with a good attitude and keep our energy up." The score of the second set was also 25-15, leaving the Mustangs in second place in the invite.