By Milla Butler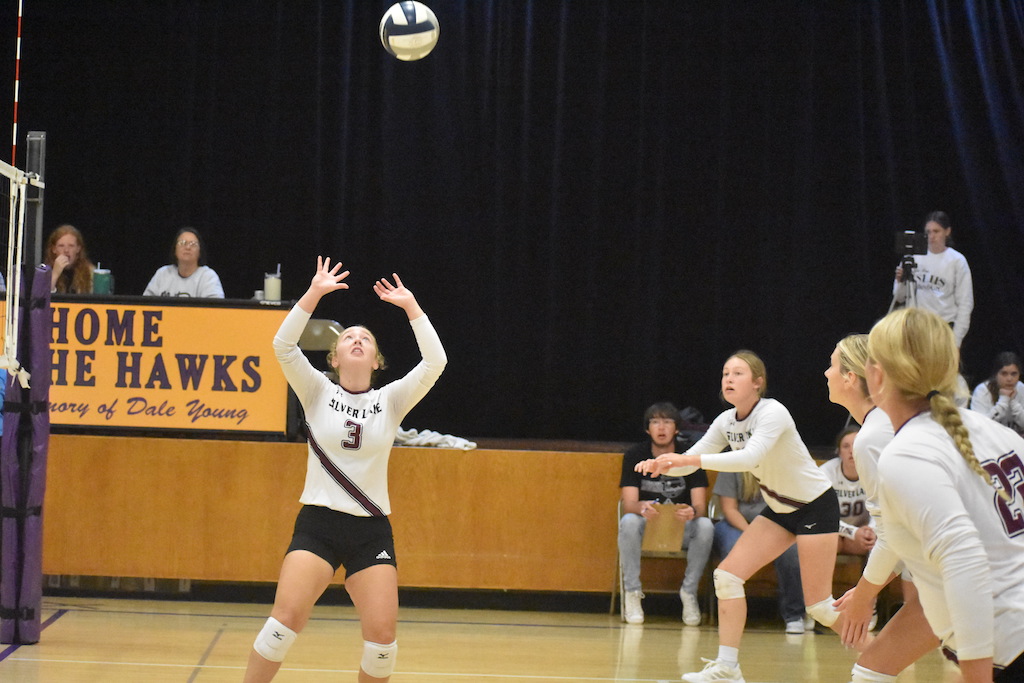 Starting off their third tournament of the season in Hampton, the Mustangs' first game of the day was against High Plains Storm. In the first set, High Plains took the win and scored 25 points to the Mustangs' 18. Turning the game around in the second set, the Mustangs picked up their game and won the set with a score of 25-14. Taking the game to a third set, the team was determined to obtain a win, but High Plains conquered the Mustangs with a close score of 25-27. Leading the team in offense were juniors Katy Soucek and Macy Parr, with 12 and 7 kills. Emma Schmidt also contributed with 4 service aces. Defensive leaders included senior Lana Swanson with 17 digs, and sophomores MaKenna Karr and Sophie Schmidt with 16 and 15 digs, respectively.
After falling short to High Plains in their first game, the Mustangs were determined to progress in their second game against the Mead Raiders. The team's determination helped them acquire a win to the Raiders in just two sets. The set scores ended 29-27 in the first set, and 25-14 in the second. Offensive leaders against Mead include Soucek and Parr with 11 and 5 kills and junior McKenna Pankoke with 5 kills. Major contributors in defense were Sophie Schmidt with 15 and Swanson with 9. 
For the Mustangs' final game of the day, they took on a fellow Twin Valley Conference team, the Red Cloud Warriors. The Mustangs started the game off strong, winning the first set with a score of 25-14. The Mustangs fell behind in the next two sets, and the game ended in the Warriors' favor with scores of 16-25 and 21-25. Offensive leaders against the Warriors were Soucek and Parr, who had 6 and 5 kills. Leaders in defensive play include Emma Schmidt, Karr, and Sophie Schmidt, with 18, 15, and 12 digs, respectively.
Discussing the Mustangs' third and final non-conference tournament, head coach Shelby Rupprecht commented, "We had a few players step up and make plays when we were struggling. I think we fought back when we got down and didn't give up. I could tell we were tired after a long week. We need to continue to be focused and intentional with things we are doing in practice to get us where we need to be."