By Mazi Dasher and Kate Sinsel
For their first outing of the year, the junior varsity football team took on Red Cloud on the road. The Mustangs started out the Monday game slowly, trailing the Warriors 0-6 after the first quarter. However, freshman Paxton Sorensen got the Mustang defense fired up, leading the team with eight tackles, while freshman Clay Plambeck picked off an interception. Silver Lake went into the break with a narrow lead of 8-6. The second half remained a competitive ball game, but with the help of two rushing touchdowns from freshman Casey Conway and two extra points from sophomore Manual Fontes, the Mustangs were able to overcome the Warriors 22-12.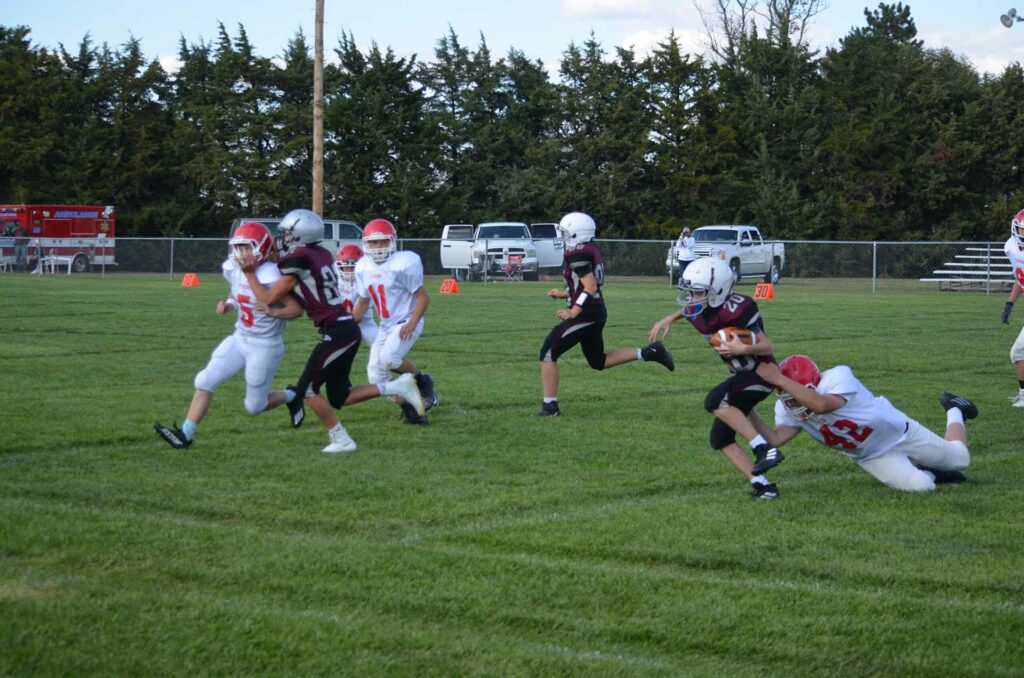 That same night, the junior high football team hosted Franklin. The boys put up a hard-fought match, and they were able to gain the lead going into the half with a score of 13-12, as 8th grader Drake Rosno punched in two touchdowns. 8th graders Beau Bonifas and Hayden Karr fought hard defensively; Bonifas earned an interception and Karr picked up two fumble recoveries. However, the Mustangs couldn't overcome the size mismatch, and they fell to the undefeated Flyers 13-30. Previously, the Mustangs dominated Harvard on the road 62-0 on September 13. Head Coach Kelsey Knehans said, "Our guys played well for the first game of the season and showed great discipline when it came to penalties. I'm proud of how we came out swinging." Both the junior varsity and junior high football teams will compete against Deshler, Monday, September 27 on their home field in Bladen.