By Lana Swanson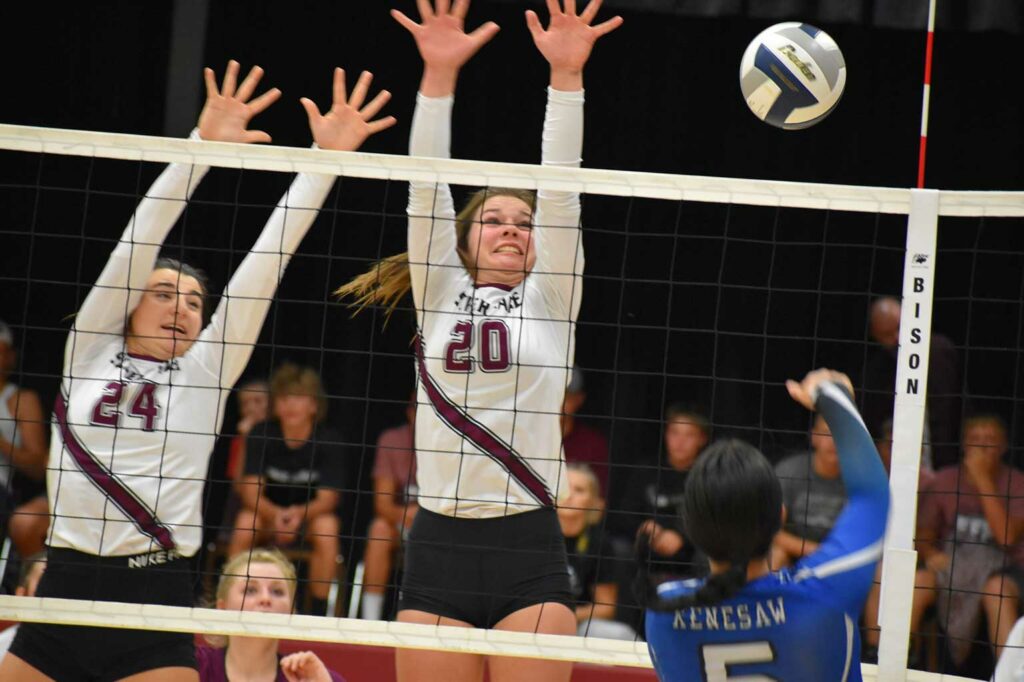 The gym was full for a night of volleyball at the barn. The matchup was against the Blue Devils. The Lady Mustangs fought hard to get many wins on Tuesday, September 21. Junior High, JV, and Varsity teams all played their hardest to improve and perfect their game.
To start off the night, the junior high teams played an A and B game. Coach Henkel commented, "The girls played well and adjusted greatly to a different pace of game. They all played as a team and fought hard together." For the first set of the A team game, they struggled a bit and lost 15-25. They showed that they are very persistent, and won the second set 25-15. The third set was a very close one, but they once again showed how they can keep fighting when they won the third set 16-14. Next, the B team played. They played their hardest, but couldn't quite finish on top. Sophomore Maddie Karr added, "We don't get to watch the Junior high play very much, but it was very nice to be able to watch them, and see how well they played against a really hard team."
After the Junior High games, the JV and C team played. The C team won the first set 25-21 and lost the second set 23-25. It was a super close game, and they played hard. Sophomore Taylor Hanson said, "We all kept our heads up, and communicated very well. We also all played together as a team." Freshman McKenna Pankoke had a seven-point serve run. It was then time for JV to face off against the Blue devils. The first set of JV came to an end with a score of 25-20. The Mustangs also won the second set with a score of 25-16.
For the last game of the night, Varsity took on Kenesaw. The score switched back and forth between the two teams throughout the whole game. In the first set, the lady Mustangs came out on top with a score of 25-18. The second set was a little bit of a struggle and they fell short. In the next two sets, they worked super hard and defeated the blue devils. Senior Amanda Ehrman led the team with 5 aces. Senior Katelyn Karr had an impressive 35 digs. Everyone showed up to play.